Way to turn one post into two, huh?
First, a small grocery haul. I was out early this morning to get some bloodwork done in a neighborhood near one of my old favorite health food stores, so I went a little crazy getting stuff I didn't really need.
Orange, 2 loose carrots, avocado, romaine lettuce, Tazo chai concentrate
(contains honey but lists the exact spices so I can DIY)
, seitan chunks, Ginger-O's
(they were on sale!)
, Raw Revolution Hazelnut Chocolate bar, baba ganouj hummus.
I've already eaten tooooo many of those Ginger-O's so let's just talk about the salad.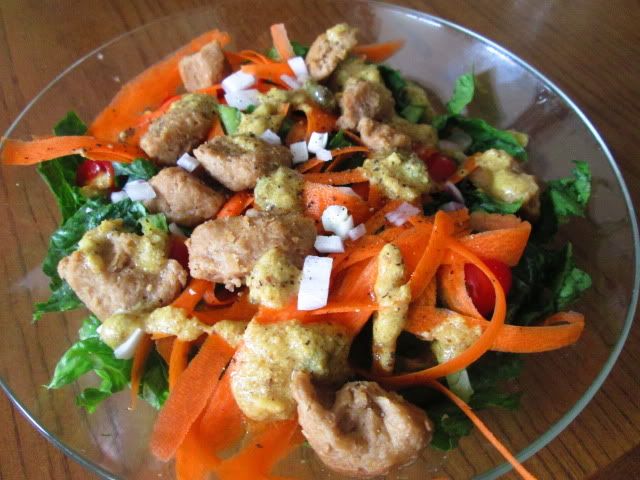 Torn romaine, shredded carrot, chicken-flavored seitan chunks, tomatoes,
and
red onion
with yesterday's
Caesar dressing.
This was pretty delicious. I warmed the seitan in a pan with a little canola oil and dumped it on the crisp vegetables so they wilted just a bit.
The dressing is really perfect: creamy (for lack of a better word,) salty, awesomely tangy, and just a little spicy. I added more black pepper on top of the salad. The chewy seitan (which I don't eat often) was a great contrast to the crunchy romaine. I considered just using spinach, but I think the bite wouldn't have been as satisfying.
I know it's not exactly a Caesar salad, but it was definitely not one I would have made on my own. However, I have a ton of dressing to use up. I'm pretty sure it'll still be great on other salads though. I packed up a similar salad for lunch tomorrow, with added broccoli.