Upon unearthing some old sunflower seeds out of the freezer, I was inspired to soak them for raw no-tuna. Then I went out and ran around for the rest of the day. When I got back home, it was late and I realized I didn't even have a lot of the stuff I needed to make it, so I put them (drained) in a container in the fridge and read blogs before bed like a dutiful little blogger.
And, Lo, the Fates smiled upon me that night for I beheld Gena's recipe on Choosing Raw for
curried sunflower spread
, the ingredients for which I mostly had and was more inclined to prepare, desiring to try a new recipe.
The next day I picked up a couple missing ingredients and rushed home and blended up the mixture. I tasted a few forkfuls that night and put the rest away to top a salad for lunch.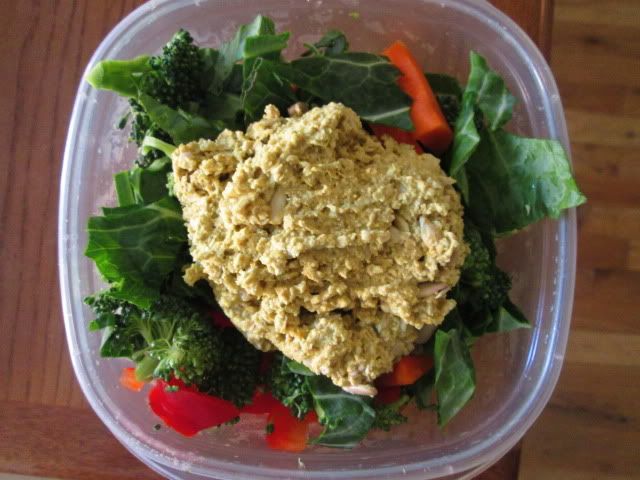 I didn't feel like snacking on it with celery, opting rather for sweet vegetables -
bell pepper
and
carrots
. These went into a chopped salad with
raw collard leaves
and
broccoli.
I drizzled the chopped veg with
olive oil
and
salt
and let it wilt a little overnight (usually I'd add ACV but I didn't know how it'd taste with the sunflower topping.) The next morning I threw on a big blob of the spread and thoroughly enjoyed it for lunch. The texture of the spread is great.
I didn't want it to get too smooth so there is just a nice amount of crunch still to it, and the garlic/date/curry flavor is bright and a nice spicy/sweet/savory mix. I definitely don't use curry anywhere near as much as I should.
I love how versatile and nutritious sunflower seeds are and I thank Gena for enlightening me as to their numerous uses.