I'm pretty sure candied nuts are a year-round New York City street corner favorite but I especially think they fit in well with the holiday season; they remind me of "chestnuts roasting on an open fire..." They're a street food that's a little classier than pretzels with mustard and the holidays make me want to be a little classier than everyday.
This is a doubly New York food because although candied nut recipes abound, I opted for
this recipe
from the Union Square Cafe cookbook, which adds a bit of
cayenne
AND
rosemary
! The Union Square Cafe is a well-known restaurant in the city that's been around since 1985 and is very involved the NYC food community. There were a couple mixed reviews on the recipe, but I love rosemary so I rolled with it.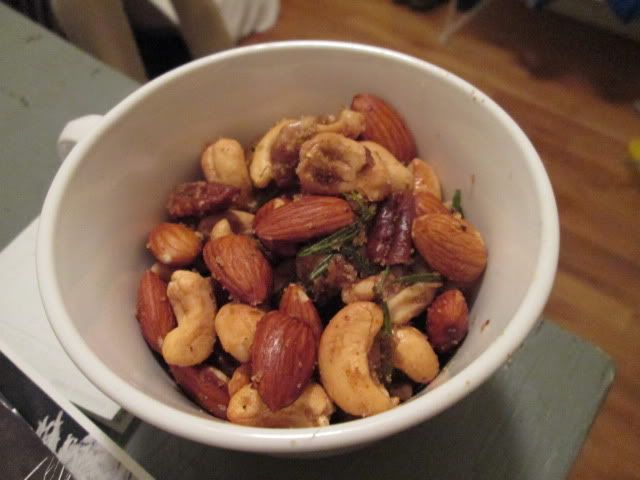 I doubled the recipe (except for the rosemary and salt since I was using salted
Earth Balance
), so as to be able to share. The nuts I used were
cashews, walnuts, almonds,
and
pecans
. It's incredibly easy, makes yr house smell incredible, and really impresses people. The recipe says they're best served warm, which I can see being great if yr at a bar with some wine, but I really liked them best the next day when the (vegan) butter had cooled and hardened up with the brown sugar.
I brought a cupful to my friend last week who told me he spent the next night scraping the sugary/salty/spicy/rosemary-y dust out of the container and into his mouth. Hahaha. So, win, I think. Hey! These'd also make a good food gift since holidays are coming up, ya know.