You gluten-frees might want to avert yr eyes.
Lunch was
tabouli over greens
. I used the recipe from
The Candle Cafe Cookbook
, mostly because I am beginning to feel really guilty about never using the majority of my cookbooks. It was tasty though I might have liked a version with cucumber in it.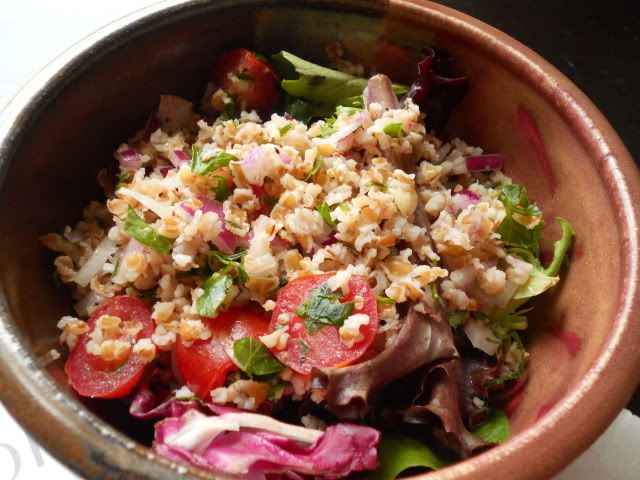 I think I've actually only made tabouli once before and then, I used quinoa. I had no idea you don't even need to cook the bulgur wheat! You just pour boiling water on top of it and let it sit.
Afterwards I had a bowl (okay, two) of
plain soy yogurt
with
Bonne Maman Four Fruits preserves
and some
raw wheat germ
on top.
I love, love Bonne Maman jams but they are pretty expensive. On a walk yesterday I happened upon a health food store where all flavors were on sale for 2.99! So of course I bought some. Exercise does pay off! The raw wheat germ was given to me by my mama a while back. I think it was a remnant from when my sister was living with them over winter break.
Speaking of, I stopped by my parents' house this afternoon to see my sister and say goodbye for a while - that globe trekkin chica is on her way to Argentina for a month, lucky girl. AND while I was there, my mother had left a "half birthday" present for me that my sister had picked out: a dehydrator! Gah! So I have a question for some of you more raw experienced folks: can I leave it running while I'm asleep or not home, or is that not safe? What if I have an inquisitive cat?
Also, one more thing. I mentioned my growing, guilty collection of cookbooks and a sweet gift from my family. I'll probably be doing one or two cookbook giveaways in the near future but I haven't decided yet on which ones. I'll keep you posted.
Any cookbooks in particular you're lusting after?