So to come down off the more splurge-y type foods from the birthday party, I baked transition muffins! (Okay, basically I really just wanted to make them one way or another).
I made
Happy Herbivore's Chocolate Zucchini Muffins
- but with carrot instead of zucchini. I don't know what make me tinker with the recipe, since I had zucchini too, but hell why not. Maybe I was thinking about carrot cake. Actually it's not the weirdest thing I could have done since that also got me thinking about
beet chocolate cake
! I'm still going to make that someday.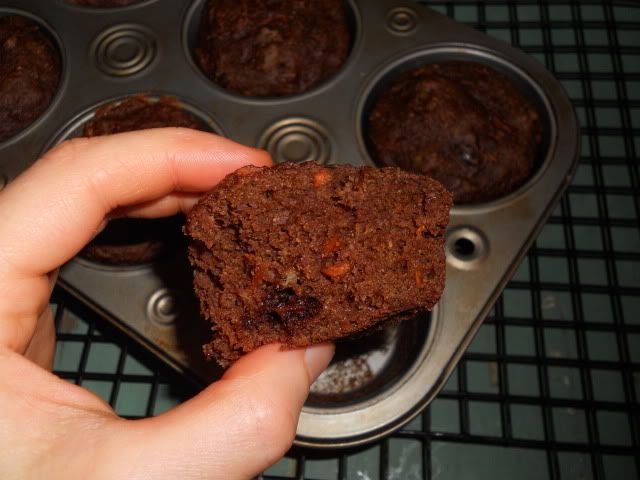 I've made zucchini muffins before and these were just as moist and delicious. I couldn't help but eat one right away but I feel like they'll be even better tomorrow. I cut down on the sugar even more than Lindsay suggests - to about 1/4 cup - and added cardamom as well as the suggested cinnamon to play off the carrot. Half the batch has chocolate chips and half have chips and dried cranberries.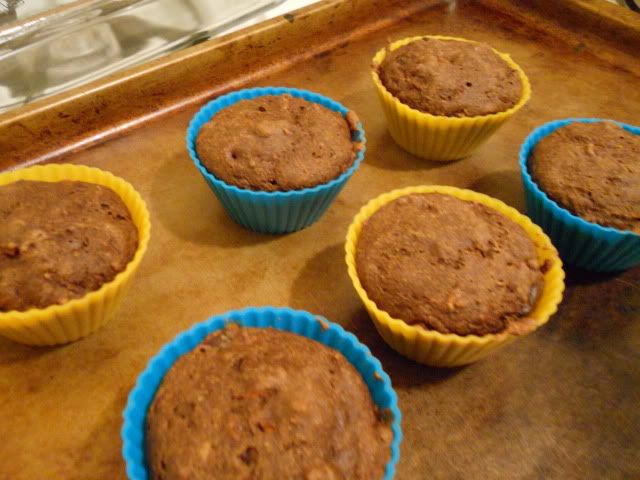 That's a less than stellar photo but I wanted to show off these silicone baking cups I got from work for a dollar! Actually, 50 cents. ACTUALLY, free, since G picked the book up for me. They came with a cupcake book (not vegan but some cool ideas) and 9 of these cups. I thought it would be a good time to try them out since I was baking without oil and shure nuff they just popped right out!
Has anyone ever used those?