G and I are pretty much homebodies. Or, rather, I am and he has a
life-encompassing hobby
that can only be done at home so we don't go out much. But his brother and his wife had two extra free tickets to go see
Stomp
today and invited us along! G is a very talented drummer as well as a very talented cartoonist so he was particularly interested to see the show.
It was really entertaining! I was smiling through almost the entire show and definitely tapping my feet at times. It was clever and visual as well as musical. I think it had a really good urban, working class message too that made me remember and finally get the Roseanne reference!
Yeah, that was definitely my favorite show for a reason.
Anyway, G's brother and his wife (OKAY I'm just gonna call them Andy and Maritza because this is getting confusing!) are vegan too, so afterwards we all went out for some early dinner at
The Organic Grill
. I got the
Raw Kale Salad
, which also had
collards, carrots, scallions, dulse, tomatoes, hemp seeds
, and
olives
in a "
sweet herb dressing
." It was...an imposing plate full of green. It was also pretty tasty, though a bit lacking in spice. The olives were a good addition. I brought some home (it was really a HUGE plate) and topped it with red pepper flakes for a second-session dinner.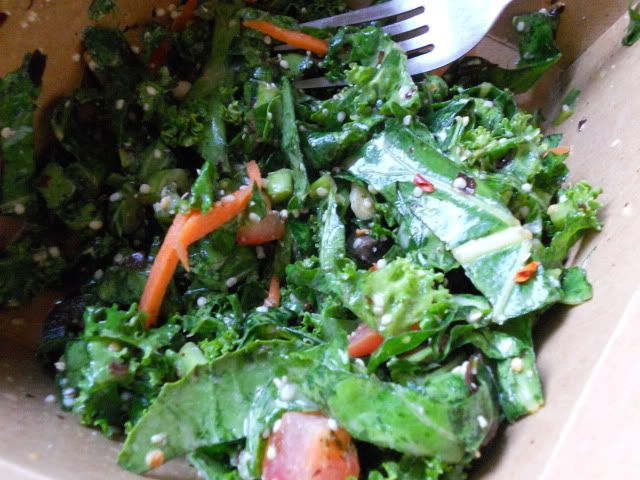 We walked over to
Lula's Sweet Apothecary
afterwards, an all-vegan mostly ice cream shop. I'd heard of this place but never stopped to see it. It's not exactly the sort of place I'd seek out on my own. They have both soy-based and cashew-based ice creams, vegan malts, vegan egg creams, etc. I also spied a few vegan candy bars in the shop. Hot as it was today, I've got to admit, I'm not an ice cream person (vegan or not) and the very small storefront was packed so I waited outside. Maybe for the blog readers' sake I could have sampled something but I uh..didn't want to make you jealous. Yeah, that's it. G sampled chocolate and vanilla and said they were good. Andy and Maritza both got chocolate peanut butter ice cream. Thanks, guys, for inviting us out!
G had to get to band practice (amped on Stomp!) but we stopped for one beer beforehand. I'd heard
Lindsay
raving about Dogfish Head's summer
Aprihop beer
(OMG! The suggested go-withs are salad and hummus! That's what I eat!) and we tried to seek it out at
Barcade
but they were only carrying their
Festiva Peche
beer. We got that anyway and it was great (just a little less boozy). I could easily have spent the rest of the evening in a chill bar with a cold beer but...didn't. Probably for the best. I came home, ate the rest of the kale, read, sweated, and made myself dessert.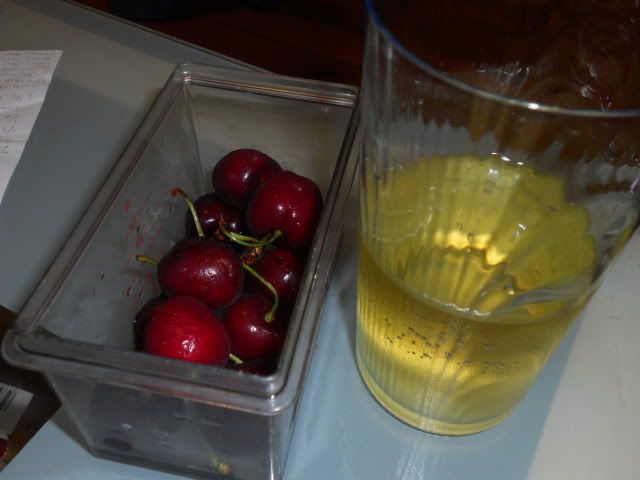 Cherries
and
white wine.
I also had some
chocolate chips
and now I am listening to Pavement really loudy which means SUMMER IS HERE. I hope you guys had a great day too!