Breakfast was a quick smoothie with the last of pretty much everything I could use up:
spinach, a frozen banana, a few frozen blueberries, and an Amazing Grass chocolate meal
. I used iced green tea to blend instead of plain water this time! It didn't add any noticeable flavor but I was thinking about the caffeine kick and the "good-for-yous" in the tea. (Although, I read that caffeine isn't really prevalent in iced tea because the water isn't heated up. Does anyone know if that's true? I soaked the bags in room temp water and put it in the fridge.) I also had a few
raw almonds
.
Lunch was the
coleslaw
I prepared for yesterday and didn't eat, bulked up a little with some
raw escarole and cherry tomatoes
. In the bag was an early morning snack of
bell pepper, carrot, and celery
.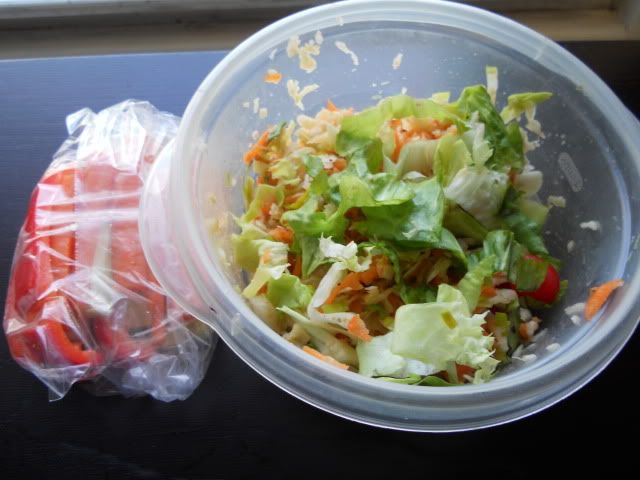 Later in the day I got kind of hungry and drank half a
Naked Acai juice
.
For dinner I jumped right in to
The Kind Diet
for the
Cookbook Club
. Since I had the radishes and was looking for something light, I made
Sugar Snap Peas, Radishes, and Edamame with Lemon
.
It was easy to put together and pretty delicious. I did make a few changes because I'm craaazzyyy. The recipe calls for umeboshi vinegar, which I couldn't find - even at our Asian convenience store - but I read that it's just very salty so I subbed white vinegar and added a bit more salt. The whole recipe as written actually seemed pretty salty, from blanching the veg in salted water to the umeboshi vinegar to salt in the recipe and the final addition of Earth Balance. I don't really like that sort of palate so I skipped salting the water, used white vinegar (as said above), and didn't add any Earth Balance - also to cut back on fat (the veg are already sauteed in olive oil with some shallot anyway).
All said, though, I really liked it. It was quick enough that it wasn't a problem making it after work and I would definitely make it again. A big bowlful would be a tasty side at a party, I think. Also of note, I said before how much I like radishes but this was my first time cooking them! I had no idea what to expect but they were great.
So there it is. High raw, easy eating. Dessert will actually be another
Kind Diet
recipe but I'll save that for next time.