Which is not to say I don't appreciate each delicate and subtle difference between lettuce types (breeds?) - okay, well, not iceberg - but it can be hard to keep up. I generally use spinach as my "green base" when composing a dish but G and I use an Organic Girl
50/50 spinach/spring mix
for our salads (my favorite is the baby red chard!). And lately, following cookbook recipes, I've been embracing green- and red-leaf lettuce.
Green leaf lettuce
was a really nice base in my lunch salad today - no picture - which included
leftover apple-miso tofu, orange-scented broccoli
, and the last of some VERY about-to-go
bean sprouts
. It cut the saltiness just enough and gave a great crunch, seeing as how the bean sprouts weren't up to it.
However, Green leaf lettuce leaves give about as much support as flimsy about-to-go bean sprouts when you're looking to make a lettuce wrap for dinner.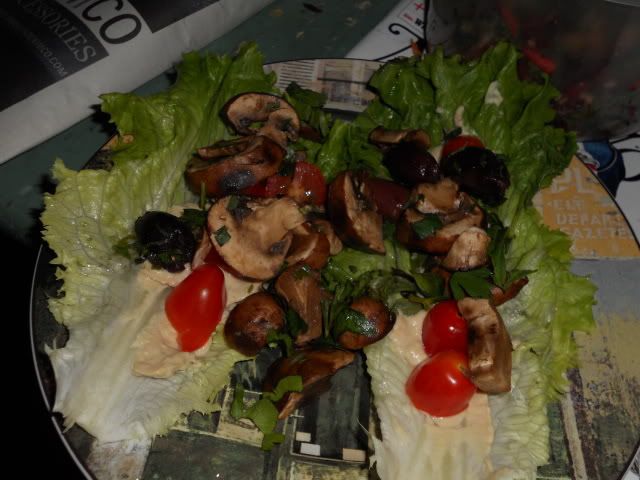 Sorry for the dark picture. I can't keep up with the sun, even with daylight savings. That's
lettuce
topped with
hummus, tomatoes, and marinated mushrooms (mushrooms, lemon juice, olives, and parsley
)
I also had our
usual salad: 50/50, beets, carrots, cucumber, tomatoes, red pepper, and broccoli
topped with more of the
mushroom mix, sunflower seeds!, nooch, black pepper, and balsamic vinegar
.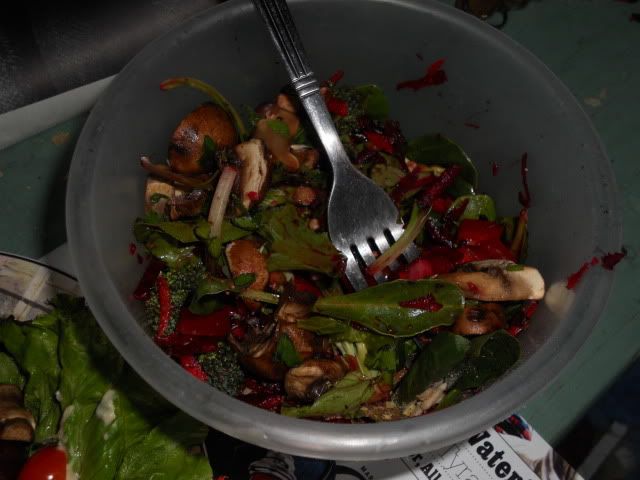 Anyway, it was tasty but I need some collards - or at least a hearty romaine leaf. Yeahhhh now that's what I'm talking about.