You may or may not remember how excited I was to have received a copy of Colleen Patrick-Goudreau's newest cookbook,
Color Me Vegan
, about a month ago.
The basic idea behind it is to eat by food color to get the most vitamins from each group. I pre-ordered it at work as soon as I heard about it because I have both
The Joy of Vegan Baking
and
The Vegan Table
, neither of which have ever let me down. Once I brought it home, I put it on my shelf and left it to languish, as is the fate of far too many of my cookbooks.
G set out to change this yesterday. We threw a dinner party in honor of his father's birthday, and the whole family came over in the rain. We had to serve them something good for being troopers and as it turned out, almost the entire menu was from
Color Me Vegan
. There are no photos from the night, as we were all too busy eating, but here is the menu (Bolded items are from CMV):
-Pita chips and crudites served with the
Earthy Eggplant
and hummus
-
Cherry Tomatoes Stuffed with Green Olive Tapenade
(tasty AND cute: my favorite food combinations. Made by G! Nice job, kiddo.)
-Roasted Sweet Potato Soup with Spinach
-Salad made by G's bro (or mother?) This was really good and chunky - bell peppers, mushrooms, tomatoes, apples, etc.
-
Lemony Pan-Fried Chickpeas with Chard
-
Asparagus and Carrots in Walnut dressing
-Lemon cupcakes made by G's sister-in-law (from VCTOTW)
-
Banana Oat Date Cookies
His dad is diabetic, so all the more reason for him to eat healthfully and vegan, but apparently he shouldn't be eating sweet potatoes. That was one minor flub of the night but everything was very good and definitely went! G's sister in law, Maritza, made tiny cupcakes just for his dad. I think the surprise winner of the night, however, was the tomatoes!
Anyway, there wasn't much leftover from the party, but I tried to finish some of it today. For lunch I ate
collard wraps
with the usual veggies, but the last of the walnut "dressing" from the asparagus-carrot dish. It was pretty chunky, but that may be because my blender is kind of old. It worked well in the wraps, though. It was walnuts, miso, soy sauce, and rice vinegar which was pretty salty but was mellowed by all the raw veg.
I also ate some of the
eggplant dip on red pepper slices
.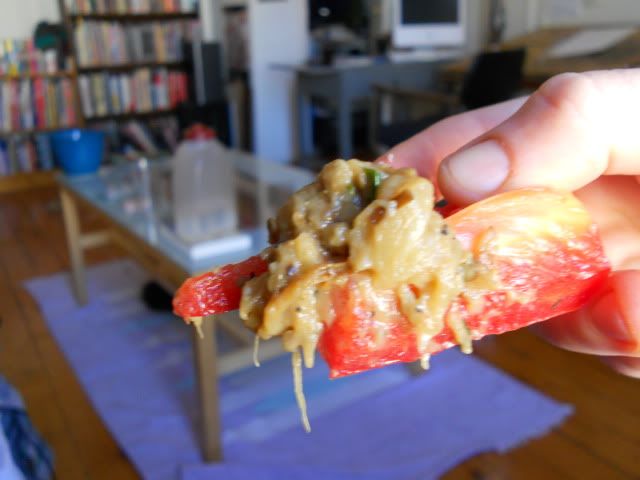 After this healthy picture though, I ate even more eggplant dip on MAADDDD pita chips, which was a little less healthy.
I followed everything up with one of the last two
banana oat date cookies
:
I liked these a lot. There is no added sugar, as dates are basically candy on their own, but there is added coconut for extra chew! So that was the dinner party. Do you guys host often? What do you like to whip out for guests? Do you follow the "Don't serve what you haven't made before" rule? I don't - dinner parties always end up being my once chance to ever bake from the many cookbooks I have. It was great to break in a new book and find some definite repeat recipes!