Since I didn't have work yesterday, I blended up a really good smoothie for breakfast. I know smoothies are quick, but I don't usually drink them on days I have work because I'm usually in too much of a rush to carefully clean around the blender blades, but also I feel a little self-conscious about making that much noise early in the morning. I guess other people are awake and getting ready too, but still.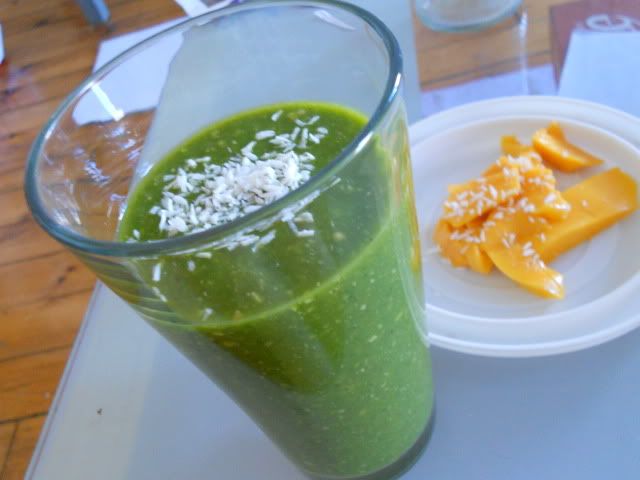 This one was a really pretty bright green:
Spinach, fresh mango, 1/2 a frozen banana, ground flax seed, a few sliced almonds, and water
. Since I had leftover
mango
, I ate it on the side, and topped both with a bit of
coconut
. Tropical Iceland!
Lunch looks banal but is actually supercool.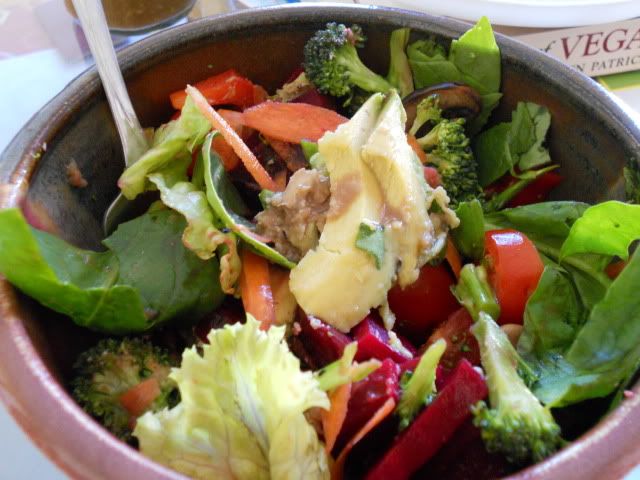 It's a quickly whipped up
salad
and a
slice of bread with hummus
. To spruce it up a little more than usual I decided to make a real salad dressing out of
Appetite for Reduction
. I don't usually make dressings from cookbooks because they're so obvious, but hey, I had the ingredients and I wanted to smush in a few more recipes for the
Cookbook Club
. I made the
Balsamic Vinaigrette
, which isn't much of a change from the vinaigrette I always make, but has a few extra ingredients that really pull it together. Isa's recipe calls for
chopped shallot, balsamic, water, mustard, agave
, and
raw cashews
, for which I subbed
raw sunflower seeds
. All blended up in a blender. Nothing special, but tasty - and no oil.
And in case you didn't notice - the dressing is in a "dressing jar." Sometimes I buy the most ridiculous novelty kitchen items. This might be the first time I've used that stupid thing.
The
hummus
is also notable because it's completely homemade! I even bought dried chickpeas and soaked them and then cooked them myself! I'm snapping my non-existent suspenders right now. I made it a
sundried tomato flavor
, blending the chickpeas up with cooking liquid, a little tahini, garlic, lemon juice, salt, paprika, cayennne, and...sundried tomatoes. It was a bit thicker than the stuff I buy, but that's because I tried to keep the fat down with not much tahini. Some brands even add oil for smoothness, but yuck.
The bread was store-bought because I'm only human.
What flavor of hummus would you make homemade?