I'm Irish, as my pug nose, pale skin, and pudgy cheeks could tell you, but you wouldn't know it based on my food today. I'm alright with that. For more celebratory food, Choosing Raw has
colcannon
, Healthy Happy Life has
damned near everything you could want
, Oh She Glows has
Shephard's Pie
, and Hannah at Bittersweet has some really interesting
potato candies!
I'm sure you all have found a bunch-million other links too, so I'll leave it at that.
My tip of the cap today was breakfast, inspired by
Kris
: Irish Oatmeal.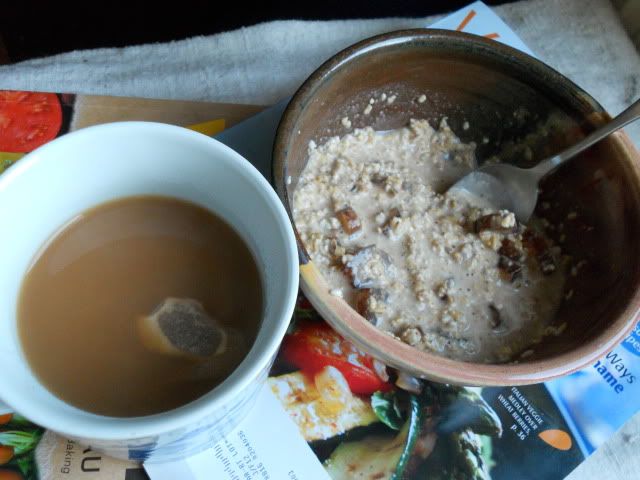 I opted for a raw version of
overnight soaked steel cut oats with dates
and a bit of
raw almond butter
mixed in.
Irish Breakfast tea with soy milk
.
Lunch was leftovers from the Goddess Nicoise salad:
red leaf lettuce, green beans, olives, chickpeas, tomatoes
, and
red pepper
thrown in with the
Green Goddess
(Queen Maebe, perhaps?)
dressing
.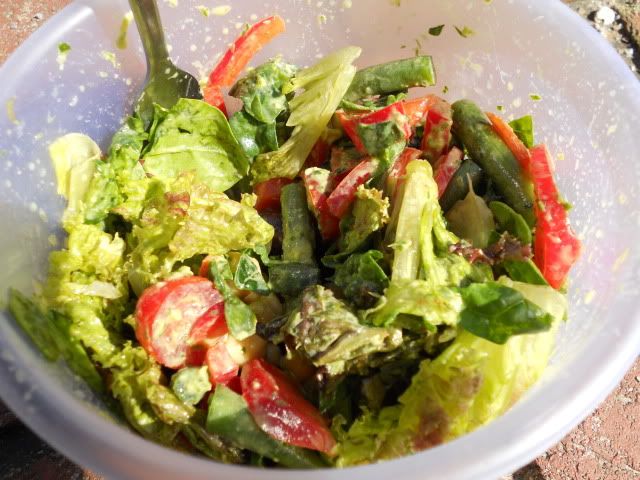 Eaten in the park, in the sunlight because it was beautiful out today!
And dinner was another recipe from
Appetite for Reduction
for the
Cookbook Club
:
Baked falafel
.
A staple in vegan "fast food," I'm sure we've all had our fair share of falafel. These are a bit healthier, being baked and not fried.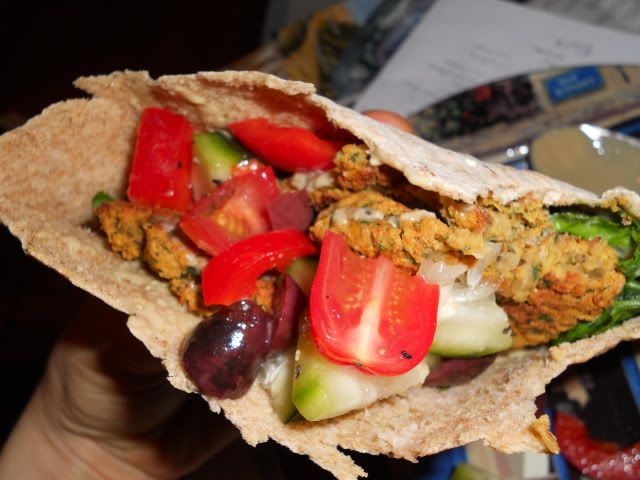 They were easy to throw together, and tasted fine - they just weren't anything special. I can't tell exactly what I felt was lacking, but I wasn't especially impressed. G, the falafel connoisseur (among so many other things), said they were good but the hummus and pita bread were lacking and considers them crucial to a good falafel experience. I didn't have mine with hummus but agree that the pita was a little sad. I ate the falafel with
spinach, chopped cucumber, olives, tomato
, and
red pepper
, and some
tahini
. Anyway, there are leftovers for lunch tomorrow - maybe the spices will have settled by then. The recipe DID have me discover coriander, which smells intrinsic to a good falafel. OH! And - notable for those of you who also have chickpea flour and were looking for a use for it, the ingredients also include a few tablespoons of chickpea flour to bind everything together, since they aren't being fried to a greasy crisp.
So, I think my Irish ancestors would be proud of my frugality with working with what I have and not baking an unnecessary loaf of dry old soda bread for show, if nothing else.
But - I can't pass up a chance to share part of a food-related poem from
Seamus Heaney
, one of my favorite poets:
At a Potato Digging
IV.
Under a gay flotilla of gulls
The rhythm deadens, the workers stop.
Brown bread and tea in bright canfuls
Are served for lunch. Dead-beat, they flop
Down in the ditch and take their fill,
Thankfully breaking timeless fasts;
Then, stretched on the faithless ground, spill
Libations of cold tea, scattered crusts.
And that ethic and gratitude in the face of a brutish life of hardship are the reason I'm not drinking tonight to celebrate St. Patrick's Day. Read the whole poem
here
.