We're drawing to a
technical
close of
Appetite for Reduction
over at Lindsay's
Cookbook Club funhouse
and I've been slacking, what with fasting, raw days, dinner parties, leftovers, appointments etc. (you all know how it is) but tonight I got around to making a recipe that had been on my list since I first flipped through the pages:
Jerk Asparagus
.
Despite growing up near and living around various Caribbean enclaves in New York, I can't say that I've ever eaten authentic "jerk." Ha. But I did have a feeling I'd like it a lot. I like heat and I like interesting spice combinations, and I like the smell on the streets of Bed-Stuy. Well, some streets. Plus, ever since the asparagus/carrot dish from the dinner party, I'd really been wanting some asparagus.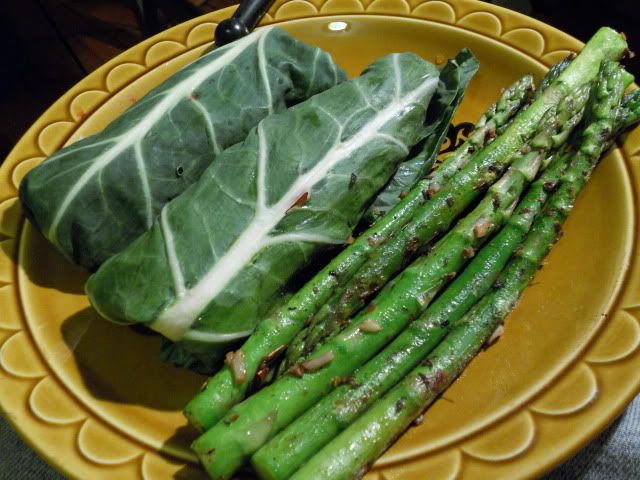 According to Wikipedia, the prominent spices in jerk are scotch bonnet peppers and allspice. The heat in this version relies on red pepper flakes, which I may have been a bit heavy-handed with, and is blended with allspice, ginger, cinnamon, and a few other spices. Sadly, I was out of the fresh ginger the recipe called for but I did give a good dusting of powdered ginger to the stalks.
As you can see, I ate them alongside
collard wraps (tomato, beet, mung bean sprouts, red pepper, and carrot with harissa/tahini)
, which may not have been the best pairing because there were a lot of flavors in those as well. The asparagus turned out nicely and I'd love to make them again with the fresh ginger, a more subtle side to let the asparagus shine, and with a squeeze of the recommended lime juice. Definitely tasty, and more in the works (plus leftovers in the fridge).