Guys. My computer is so dumb. I will be brief because the technology might give out at any time. This is also why I'm not commenting too much, but you are eating some really tasty looking stuff. Rest assured, I am drooling and will soon be back with a (vegan with a) vengeance.
Easy, fast, green lunches: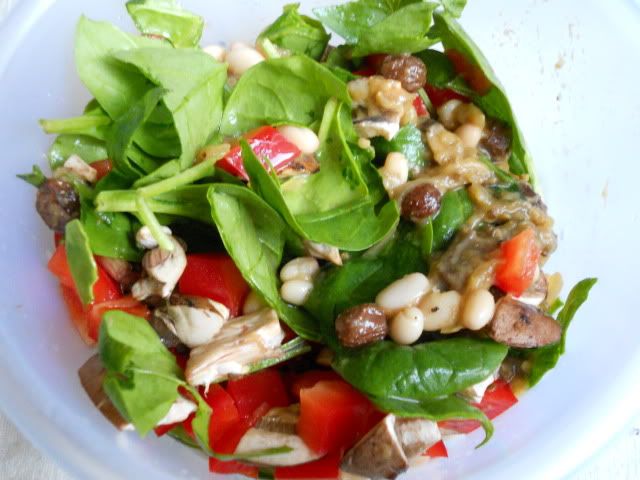 Baby spinach, the eggplant mush, chopped red pepper, mushrooms, and the white beans.
Topped with black pepper.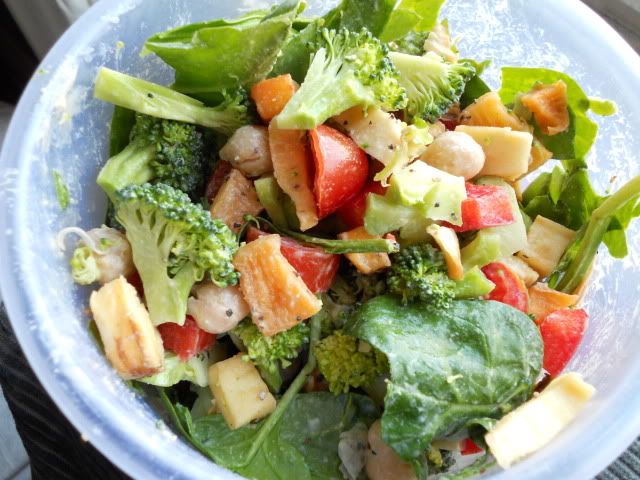 Baby spinach, red pepper, tomato, chopped broccoli, chickpeas and roasted rutabaga and parsnip
that I made last night. Topped with
tahini, lemon juice
, and a little
salt
- no garlic for work! This salad was amazing. It might not be as beautiful as the kale, but dayum.
Also, more tester cookies for
Dynise
. These are
hamantaschen
, popular around Purim, a Jewish holiday. I remember eating these as a kid; I think my favorite was actually prune filling! These I filled with strawberry jam. Not what I remember - the dough is a little lemony for me, the jam too sweet, not to mention my lack of folding skills but I'm no Jewish grandmother. I think only they really know how to pull these off.