Despite the temps dipping way, way, back down to the flippin 30s from yesterday's high 60s, I thought today would be a good day to eat mostly raw.
Breakfast at 7:30 was a handful of
dried apricots
and two!
bananas
(don't worry, we have a zillion) with some
raw almond butter
. With
black tea
.
I had a snack around 12 of an
orange
. I was pleasantly surprised at how long I stayed full from breakfast.
Lunch at 2 was a
coleslaw salad: spinach, coleslaw, sprouts
, and
tomatoes
. About an hour later I also had about 8 ounces of this
vegetable juice
: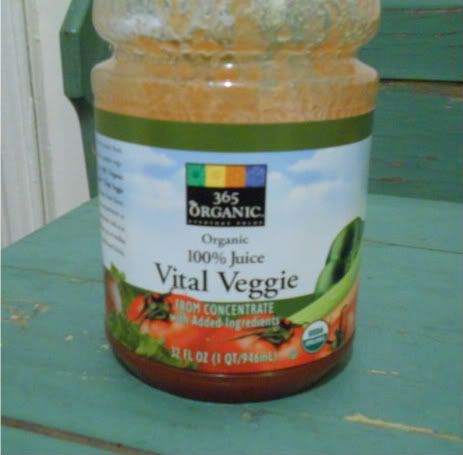 Have you guys tried this? It really wasn't that great - much, much too salty. I generally only like Bolthouse Farms bottled juice (when I don't want to pay for or make fresh juice) but the closest Whole Foods only carries the fruit juice varieties! Totes lame. Actually! I just tried to look for it on their website and it's not even there! I wonder if they discontinued it?! Even more totes lame.
Anyway, I had half an
Amazing Grass Berry bar
at 5, which I like a lot. Maybe more than the original, which I also enjoy but sometimes tastes too sweet.
When we got home at 7, I ate three of G's
pita chips
which was the first non-raw food I had all day, and then ate
romaine wraps
for dinner:
romaine, muhammara, sprouts, tomatoes, spinach, cucumber
and
carrot
. On the side was a bunch of
broccoli
in a
lemon juice/mustard/tahini sauce
.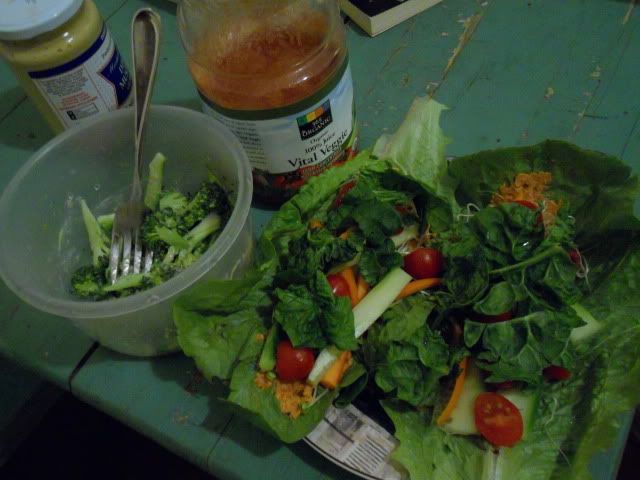 Sorry for the dark picture - a light is out in the kitchen and we don't have a ladder to change it!
Dessert was the other half of the
Amazing Grass bar
, and some more
tea
. So the only non-raw stuff I had today was those three chips, the mustard on the broccoli, and the muhammara, although that juice was probably pasteurized.
I feel a little hungry but I might have some more water or something. It's kind of too late to eat anything anyway. Raw food always makes me feel so good and happy! Green and alive. It's astounding, really. I am taking a mini vacation Sunday through Wednesday, and I'd like it to be semi-cleansing, which would mean raw mostly, but there's a lot of cooking I'd also like to get done. Maybe I'll do some un-cooking? We'll see how everything goes.