This is the last day of my vacation...whoa oh oh
Haha, yeah. It was sort of a bust today but at least I got the laundry done. I tried to start the last day out strong with a
green smoothie
and some
Irish Breakfast tea
: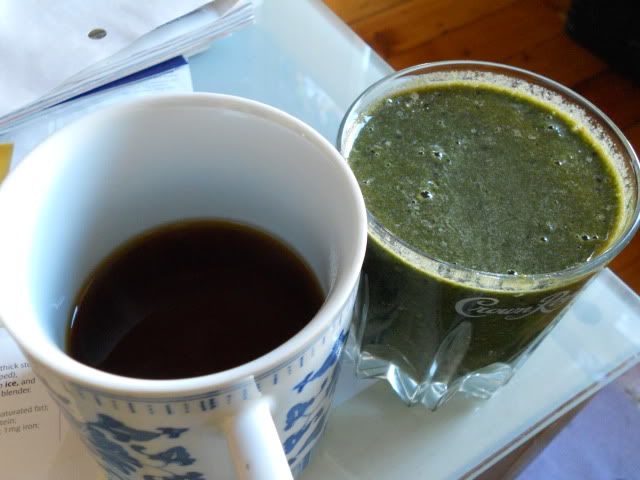 We were out of rice milk, but this smoothie had
spinach, a frozen banana
, some
water
to blend, a few
frozen blueberries
and an
Amazing Grass berry blend
. Talk about antioxidants! It was a little weird, though - the berry flavor was a bit off and tasted sort of fake, which is bizarre because it's completely natural. Anyway, I might stick to the plain Amazing Grass powder, but I definitely want to start drinking more green smoothies in general.
Then I was running around, back and forth to my parents', and to Trader Joe's for groceries (it turned out G went too - we will never run out of rice milk again!). I managed to snag a
roll
from the folks' to put on :
zucchini, green peppers, arugula, lettuce
, and a spread of
tahini and sriracha
(it was amazing) - AND I found some
vegan chocolate truffles
I made my mom for her birthday last year! You snooze, you lose, mommy!
Blah blah blah, I did some junk and somehow it was dinner time. More
romaine wraps
, which didn't really hold together well with so much stuff crammed into them but included an interesting new addition.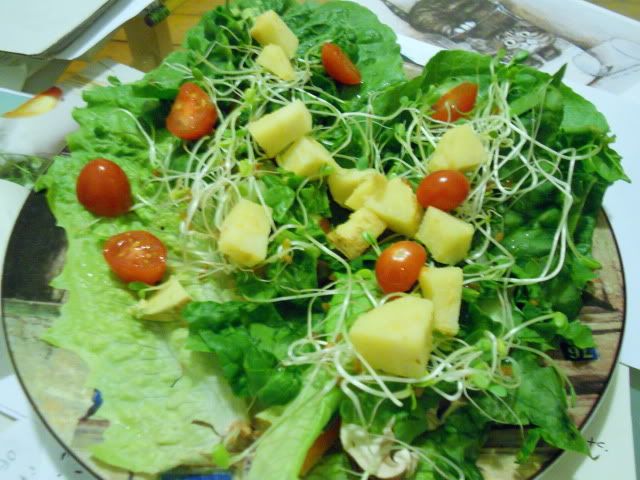 It's not a great photo but those chunks on top that look like pineapple are actually parsnip. I got the idea from
Gena
, who made a
cheesy parsnip spread
. I only had one parsnip, so I scaled down the recipe significantly and didn't puree anything because I didn't want to dirty the food processor for one measly parsnip. Instead, I just worked with the flavors of miso, nooch, and parsnip. Interesting stuff. I'd still like to make the spread sometime when I can though. Other innards included
cucumber, carrot, mushrooms, sprouts, spinach, and tomato
. Badass. Back to work.