Phew! I was on a tear these last few hours in the kitchen! I had to stop myself from making pickles because that would have been ridiculous. Although, if pickled things are what you want, read
this post
by Sarahfae. Or don't read the post but look at that cute frickin pizza puppy! I wish my cat stayed still long enough for me to get gratuitous animal shots up like some of you.
Okay enough talk because I have a lot of food for you today. I tried to keep an exact log of what I ate, how much, and when - just as an exercise in accountability and because I used to do it obsessively and I wanted to romp some old stomping grounds.
Breakfast - 7:30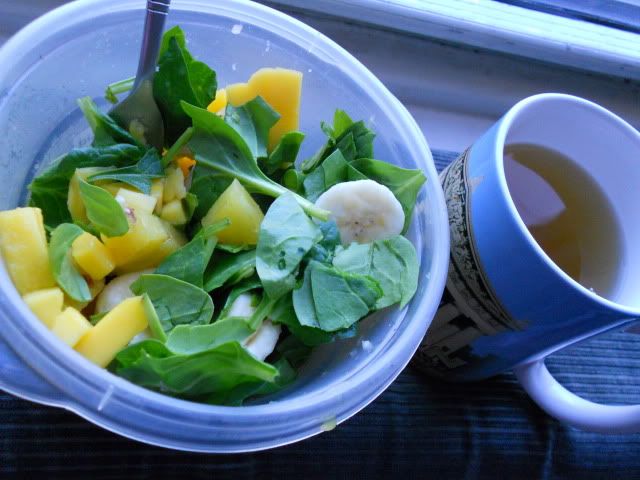 A veritable
fruit salad. Baby spinach, pineapple, banana, and mango. Green tea
.
Breakfast being lighter than my usual oats/nuts/fruit, I was hungry again by 11, and snacked on one of these
Amazing Grass energy bars
: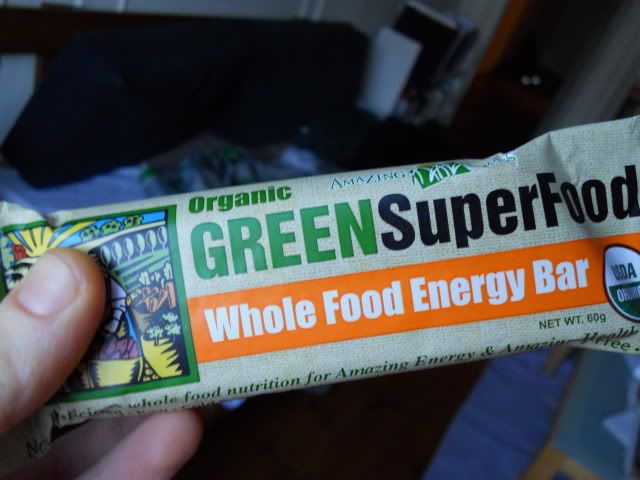 Anyone ever tried these? It took me a few tries to get into them, but I like them a lot now! They're a bit more calorie-heavy than I usually like in a bar, but they really are nutrient-dense and super healthy and I was considering it half of my breakfast. I like the Berry flavor too, and recently purchased a few single packets of their powders for smoothies.
Lunch - 2:00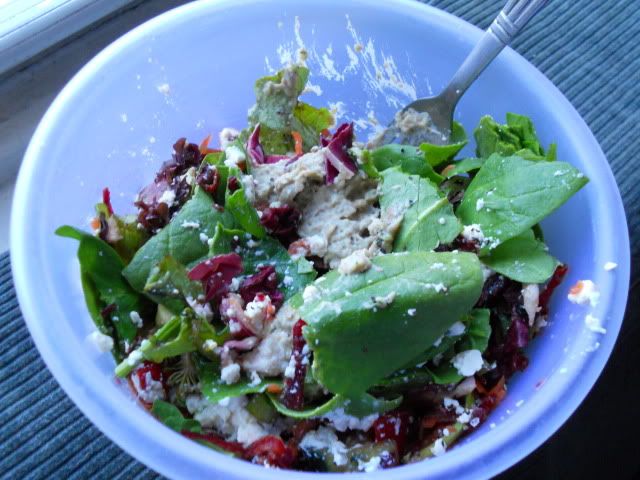 Salad
with a little
silken tofu
mixed in and a dollop of the
zucchini-bean dip
. I also added some
lemon juice
and
black pepper
. Very tasty.
I was hungry again! at around 4, and ate an orange for a snack. One of the best I've had recently, actually.
Thennnn I was for some reason starving when I got home from work at 7 and ate exactly five of these
Whole Foods vegetable crackers
.
They are a little weird. They have dehydrated vegetables in them, which is nice, but no real flavor and a bit of a bizarre texture. Very crunchy. Anyway, I didn't want to eat too many because I was making crackers anyway, so I started boiling some
broccoli
that was about to go bad and making the
Cheezy sauce
recipe from
Veganomicon
(this isn't the one! Maybe it counts for the Cookbook Club, but I'm planning a real dish on Sunday.) It tasted alright but didn't thicken up as much as I thought it would. It also got even runnier because the broccoli was still a bit wet. I served it with more
romaine wraps
.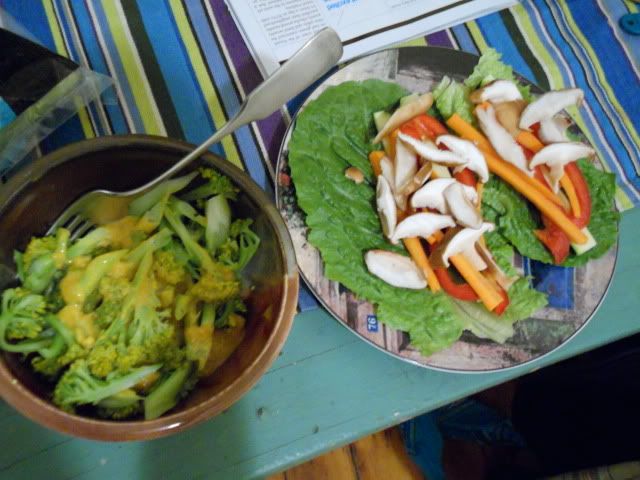 Romaine leaves with red bell pepper, zucchini strips, carrot, and shiitake mushrooms
. Good and fresh as ever.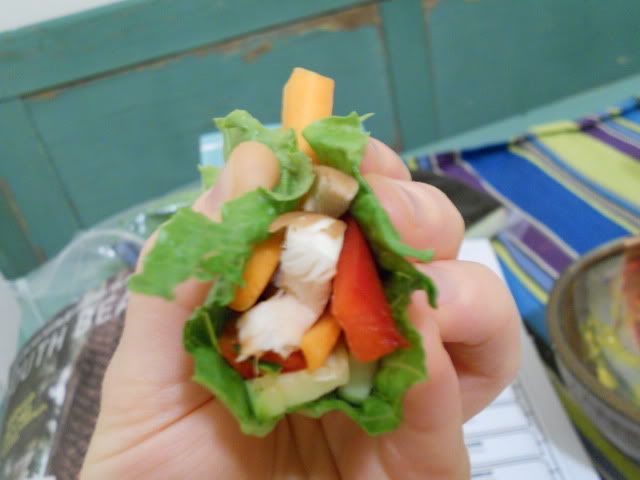 This picture is for you, Jenny - I'm grasping onto the wrap with my pudgy little hand for dear life to keep all the vegetables in!
Thenn I finally cleaned everything up and patted my full belly for the day and got to work making, as promised, crackers. I used
Kris Holechek's
recipe for "Hippy Dippy Crackers" from
100 Best Vegan Baking Recipes
. They were fun to make, and taste better than WF's but they certainly aren't my FAVORITE CRACKERS EVER, but it's certainly something I'd like to work with, despite my dough sticking a bit and frustrating me. I won't be content until I make them PERFECT! I do like them, though! Don't get me wrong.
Hers originally used pumpkin seeds, flax seeds, and sesame seeds. I didn't have flax seeds (just flax meal) so my mix was:
poppy seeds, pumpkin seeds, sesame seeds, and caraway seeds
. Topped with a bit of
sea salt
.
Next time, I think I'll add some garlic powder or dried onion and roll them out more thinly.
So that's my whole day. Oh! PS dessert was unphotographed because the
handful of chocolate chips and raisins
was melting quickly in my hand. And you?