I said I'd have this up yesterday, but I was in a pretty terrible mood. Today I've calmed down AND it is reading 54 degrees in NYC today! I had a nice walk this morning, got groceries, cleaned, and am sitting with the windows open! Here's the lunch I ate in the sunlit living room, incorporating the last (well, within the time period)
Veganomicon
recipe I made for
Lindsay's
Cookbook Club:
cauliflower hummus
.
Lunch was
collard wraps with sprouts, carrots, zucchini, and tomatoes with the cauliflower hummus
. The sprouts are something that I'd always like to buy more of but sometimes they're hard to find. And for something so delicate, they are packed with nutrients.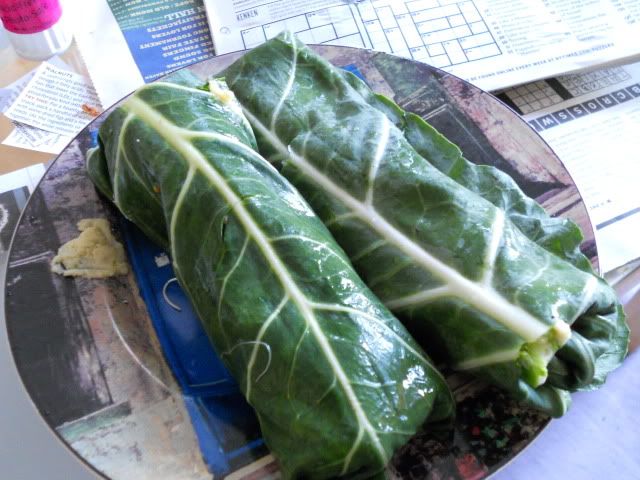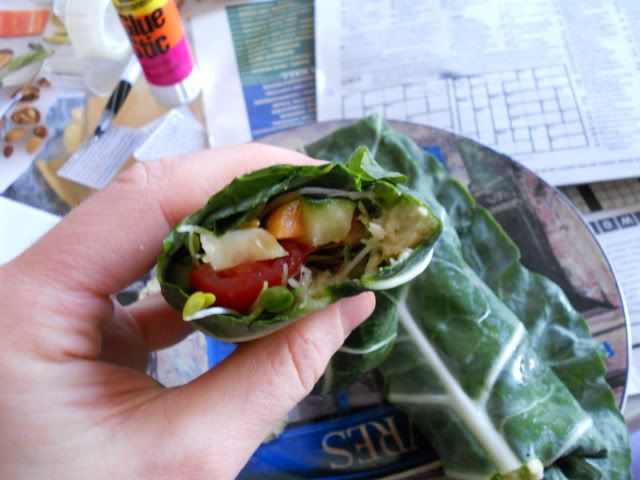 Delicious! The cauliflower hummus is good - very garlicky though. There are also scallions in it, and parsley, which gives it a very gentle green tint, which I like for some reason. It's light and lower fat than the all-chickpea kind, which is nice for a compulsive snacker like I tend to be. It's not hummus per se, but I enjoy all kinds of dips and spreads so I'd recommend this one for sure. The glue stick is to hold the collard wraps closed.
So to close the book on
Veganomicon
, I'd say that it's nice to have worked from. Its subtitle is "The Ultimate Vegan Cookbook" and I think a lot of people (myself included) took that at face value without trying too many recipes. Theoretically
V'con
is a wonderful, inventive cookbook that got a lot of people excited about veganism as a real cuisine and not just a lifestyle. In practice, some of the recipes could have been tweaked a bit for salt and flavorings, or edited for typos. I can't remember if I came across any but I know other people participating met with some frustrating ones.
Although the recipes are pretty easy to make - the ones I made were whipped up after work most days - they aren't exactly ones that I'd incorporate into my usual repertoire, mostly because my "usual repertoire" consists of easy salads and wraps and a little less cooked food. The recipes also use a little more oil than I usually like to. That being said, that's just my taste and
V'con
DID open my eyes to a lot of new ingredients and foods: udon noodles, bok choy, escarole. While most of the ingredients were not unusual or difficult to find outside of my normal grocery store/health food store stops, they were ones I passed over, not seeing how they'd figure in to a meal I'd eat. I also learned more about what I do and do not like. With many of the leftover ingredients, I used
V'con
as a guide but changed some steps or methods: steaming the bok choy rather than sauteeing it, adding more vegetables and spices to polenta next time, etc.
I'm happy for the opportunity to be "forced" to use this cookbook and to critique it because it gives me more faith in my own cooking and the realization that even fancy professional vegan cooks make a dud or two of a recipe. Practice makes perfect and life is a process. Now that
V'con
no longer seems like an unapproachable and venerated tome, I see myself using it more and playing around with it. Isn't that all Isa and Terry can ask for? I certainly recommend it as a cookbook. It is creative and beautifully laid out (I'm a font nerd), with a fair amount of pictures, plenty of information about cooking techniques and specific ingredients and still a heartening sense of humor.
To re-cap:
Tempeh with Broccoli Rabe and Rotelle
Baby Bok Choy with Shallots and Sesame Seeds
Broccoli Polenta
(scroll down)
Udon with Shiitake and Kale in Miso Broth
Escarole with Capers and White Beans
Cheezy Sauce
(un-posted about: it was a bit of a dud, but I think that was my fault. It didn't thicken up much but the flavor was good. I mostly used it to drizzle over vegetables.
Lower-fat Cauliflower Hummus
(see above)
Oh, and Happy Valentine's Day for those of you who care. I'm not big on it but I do have a wonderful, beautiful, talented, kind
boyfriend
who will probably be eating another
Veganomicon
recipe tonight. I may post again later. For now, here's Haxan wistfully planning her little kitty picnic in the yard (or so I imagine)