I had no idea more snow was coming, though maybe I should pay more attention to weather reports. Mondays are my Sundays so I usually sleep in a little but no wonder I slept until 8, when the sky was gray and muted again with snow.
It also being my sort-of vacation, I was feeling cozy and started the day with warm
lemon water
and some writing, then moved on to the hard stuff:
Coffee
, fresh, for the first time in a long time and
oatmeal with almond butter, blueberry jam and frozen blueberries
.
While looking outside at this, again: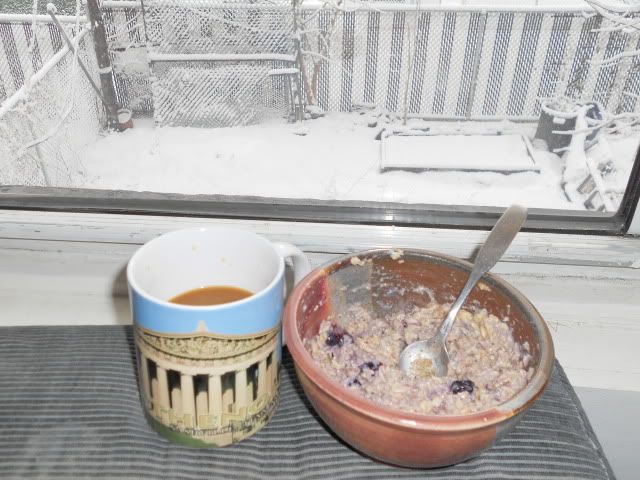 I cleaned up around the house a little, tried to read, started a sewing project (!) and decided to get out of the house. I headed to the Brooklyn Botanic Garden, which was open and free today (and all winter weekdays - go if you can)! It was beautiful and pretty quiet due to the freezing cold, which did make it a little uncomfortable to stroll around. I'd love to go back again soon.
When I got back, I turned on the light in the kitchen to find that our
shelf
with all our small kitchen appliances and cookbooks had totally collapsed! There was even more on it than pictured in that photo and all of it was all over the floor: knives, forks, bags of beans and grains... Amazingly, curiosity did NOT kill my cat, she was NOT squished or stabbed or anything, NOR was anything broken! Our juicer and extra coffee maker were actually sitting upright. So, so luckily, nothing glass was on the shelf at the time and I think the bananas and an avocado got the worst of the collapse. I don't know if you can see from that photo but there is a small window on the left and I'm just thankful the whole shelf didn't actually break through. I'm also super happy I actually tied closed all the bags of food on the shelf! That would suck to have lost (and had to clean up) all those lentils and flour and stuff. As it is, only two cloves of garlic are unaccountable, hmmm....
Anyway, I sort of straightened up and got to work on dinner; something to warm G and I up (although I was already pretty hot from having panicked over the mess) from the snowy, chilly day. I had some leftover
kale
, a can of
diced tomatoes
, a can of
chickpeas
, and some
rice
in the pantry, plus a million spices, so an
easy soup
it was.
I had my bowl with a
kale salad: Kale, avocado, cucumber and tomato with an olive oil, agave, apple cider vinegar dressing
.
I also decided to make
Sweet Potato Drop Biscuits
from
Appetite for Reduction,
the second cookbook in
Lindsay's
Cookbook Club.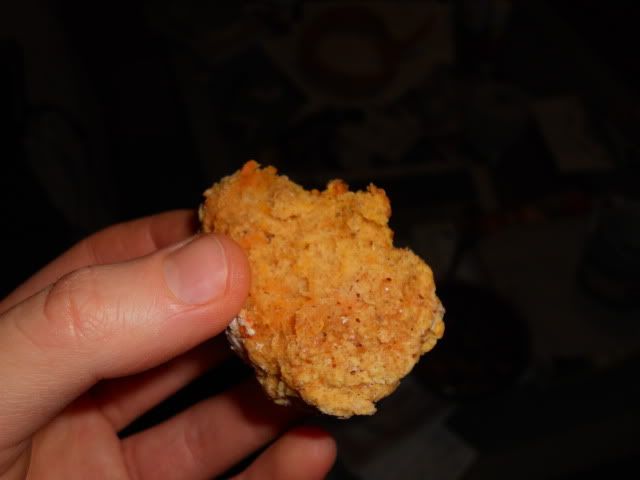 These were really good. Light and moist inside with a crispy crust and a subtle flavor from some nutmeg. They might have been a little bit salty, and the yield was only 10 which is NOT enough for biscuits this good. They are very easy to whip up, though, so I'll definitely be repeating this recipe. Why is it that every baked good with sweet potato in it comes out so well?? The good news is also that each biscuit is only 100 calories with 80% of yr daily Vitamin A, 2g each of protein and fiber - but who cares? Like I said, they're really good.
Now for some tea and wine, which are also necessary ways to wind down a snowy day.