This isn't exactly Superbowl food but it would have been finished within half-time. My 5th recipe for
Lindsay's
cookbook club is
Escarole with Capers and White Beans
(as you may have gleaned from the title of this post.)
G is a fan of Escarole and White bean soup, so I thought this would appeal to him as well as giving me a chance to taste escarole, which I don't know that I have before. It sounded like an interesting take on a classic.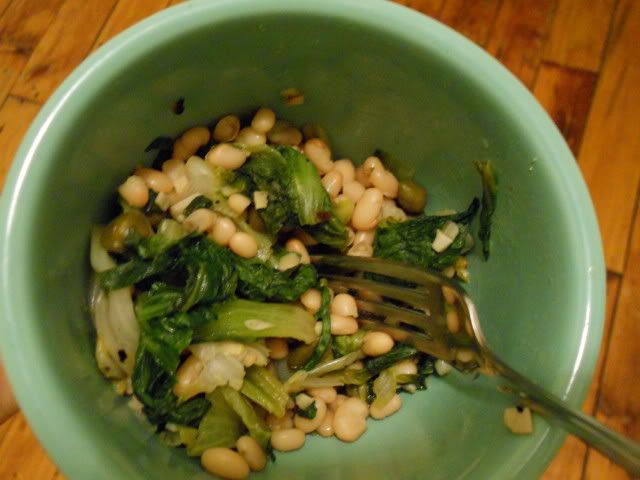 This recipe made 2 servings as a main dish, though I could have had a little bit more. I think it would have benefited from more escarole (always more with the greens!) as they wilted a lot. G suggested that the dish would have been better with larger beans and I agree, though the recipe specifically calls for "small white beans." This may have been partially off due to the fact that my capers were frickin HUGE! We both thought the amount of capers could have been reduced as they are really, really salty and briney. I like them, but in small amounts. Bizarrely enough the recipe also calls for added salt which I didn't add because it sounded, well, insane. What is up with this cookbook and its salt? It's either too much or too little. The wedges of lemon "served as a garnish" offset the salt a little and did add a nice tang.
G and I also agreed that it would have been tasty served over rice - both to cut the salt and brine of the capers and to stretch the meal a bit more.
I might make this again, definitely with bigger beans, fewer capers, and more escarole.
I do appreciate the fact that there isn't much oil in the recipe, that it was quick, soy-free, and gluten-free but one of the icons also indicates that it is supermarket friendly. I don't take issue with the book for this so much as EVERY SUPERMARKET I WENT TO! You have no idea (or maybe you do) how hard it was to find a store that carried escarole - nope, not even Whole Foods. No wonder, then, that I've never cooked with it before. I definitely still want to try an make a soup version of this. What else should I do with these capers?
Back to your TV sets.