Lunch was an overnight-marinated
kale salad
and
zucchini, carrot sticks, and a few sliced mushrooms
with the
zucchini-bean dip
from Dynise's upcoming book.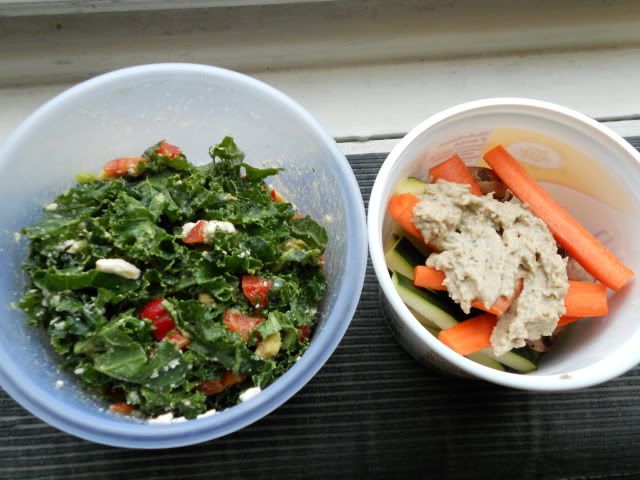 The kale salad was
kale
(obvz),
avocado, chopped red pepper, lemon juice, apple cider vinegar, salt
, and a little
agave syrup
. Oh, I mixed a little bit of
silken tofu
in for some protein.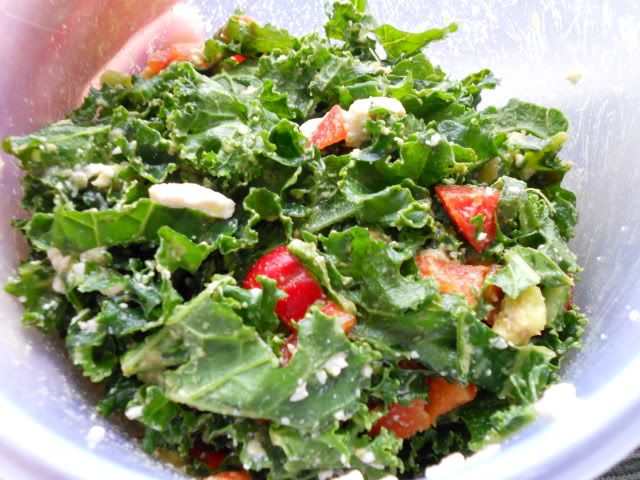 While at work, G was feeling a little poorly and dreamed up a nourishing meal: Quinoa, kale, root vegetables, red onion: OK GO.
I went to the Farmer's Market to pick up
carrots, parsnips, and a rutabaga
. They had NO greens whatsoever, although they did have alfalfa and sunflower sprouts. I didn't get those. Coming home, we picked up the
kale
.
One of the things I like about G is that he knows what he likes and what will taste good together. I didn't have a recipe but his guiding words and a "I was thinking of a red wine sawce."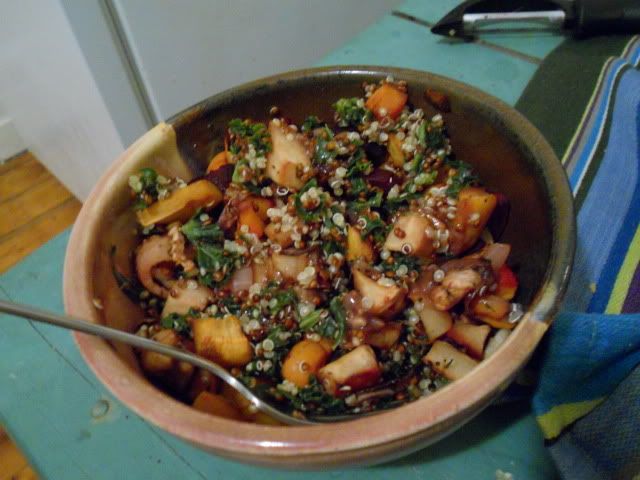 Quinoa, Kale, and Root Vegetable Bowl with Red Wine Gravy
Makes 2 generous servings
1 carrot
1 beet
1/2 small rutabaga
1 largish parsnip
1/2 fennel root, sliced thinly
1/2 red onion, sliced thinly
3/4 cup red wine
1 TBs oregano
1 pinch dried thyme
1 tsp rosemary
salt + pepper
1 TBs olive oil
1 TBs olive oil or vegan margarine
1 clove garlic, minced
other half of the red onion
about 4 oz. mushrooms, chopped
2 TBs flour
2 TBs water
salt to taste
1/2 cup quinoa
1 cup water
1/2 bunch kale, chopped finely
-Preheat oven to 375*. Chop root vegetables, fennel, and onion. Throw into a large bowl and top with the red wine, spices, and oil. Let the vegetables sit for a while, then spoon onto a baking sheet, leaving the liquid in the bowl. If some comes out it's fine.
-Bake for 40 minutes, or until vegetables are tender. Set aside.
-Meanwhile, rinse your quinoa and add to a pot with the water. After about 5 minutes, add the finely chopped kale and cook until quinoa is soft.
-Finally, to make the red wine gravy, heat oil or margarine in a small saucepan. Add garlic and onion and stir until just softened, being careful not to burn the garlic.
-Add in the red wine liquid from the marinade and the chopped mushrooms. Heat until mushrooms begin to soften. You may want to add more red wine.
-Mix in the flour and whisk, stirring constantly until incorporated and thickened. Add the water to desired thickness. Salt to taste.
That's all! Throw the vegetables together with the kale/quinoa and top with the gravy, duh.
This might look like a long prep, but it was made and eaten probably within an hour and a half. And it was worth it. G is a really smart fellow and we are both very nourished thanks to the meal.