How many times can I reuse this post title? Hmmm.
This first dinner is Italian inspired and G inspired by his watching Gordon Ramsay's Kitchen Nightmares. I don't really watch it, unless I catch it over his shoulder, but apparently there was an Italian restaurant on the show and G started craving some vegetable roll-up smothered in sauce. He was tawkin eggplant - and I was thinking of Rose's
eggplant rolls
. She mentioned having sauteed spinach on the side. I put it inside the eggplant roll-up with sauteed mushrooms and roasted zucchini.
I also made
tofu ricotta
and
tomato sauce
, both from recipes in Colleen Patrick-Goudreau's
The Vegan Table
.
I layered one slice of
roasted eggplant
, one slice of
roasted zucchini
, the
ricotta
, and the
sauteed spinach and mushrooms
and pierced the little rolls with a toothpick and baked them at, oh, I don't even know - 350 for about 10 minutes.
I plated them with
linguine
and topped everything with the tomato sauce.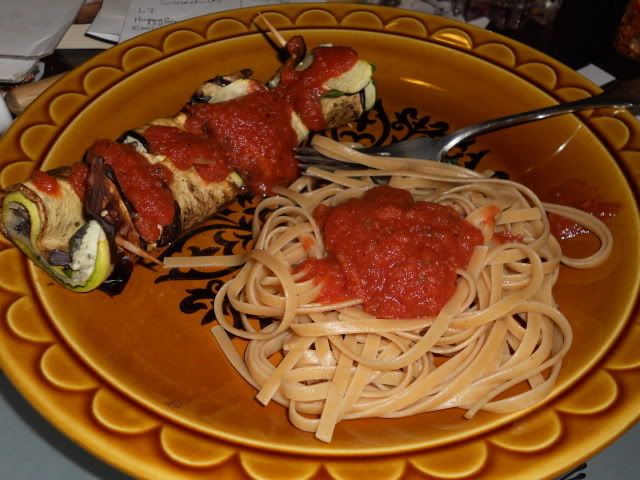 I'm pretty proud of this dish. It was simple overall, but there were a lot of components and I wasn't exactly sure what G was looking for but he ended up liking it a lot. I'm also really happy about this recipe because we already had everything in the fridge - it just all came together. I did have to pick up some basil and the linguine but that's nominal. G and I make a good team, I think, because he has definite ideas of what he'd like to eat and challenges me to try new things. I just carry out his wishes. And both the zucchini and eggplant were probably about two days from going bad. He swooped in just in time to SAVE THE PRODUCE.
Then, tonight for dinner I wanted to use up an oldening avocado in the fridge, plus a bit of rice I had from...maybe a week ago? I also happened to have a package of seaweed, so I attempted
sushi rolls
with
avocado, cucumber
, and
carrot
. No photos of that because they were a mess and hard to hold together. I think I really need to start with one of those larger sheets. They were tasty, however, and I used up the stuff that was leftover from the 5 mini seaweed sheets to put together a sushi salad. I added
mushrooms
to this plate and topped it all with
soy sauce
and
red pepper flakes
.
Good stuff. I'm stuffed.
One more thing - the Kuntrageous Vegan is now at a new site and is giving away a change to win the Happy Herbivore cookbook.
Take a look!