Well, sure, fine. But it tasted good.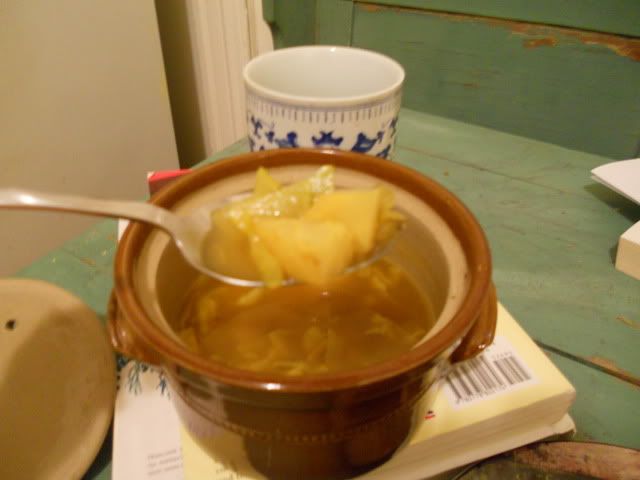 Soup is so awesome. And especially awesome for using up random things that would otherwise go to waste. This is a brassica soup:
onion+garlic
(as all soups worth anything start with),
veg broth, broccoli stalks
(the tops were for the polenta), the last of the
celeriac
(from the harvest crumble), and
cabbage
(from the wild rice soup). I added
turmeric
for pee color (and liver detox,
among other things)
,
caraway seeds and black pepper
.
With
collard wraps
: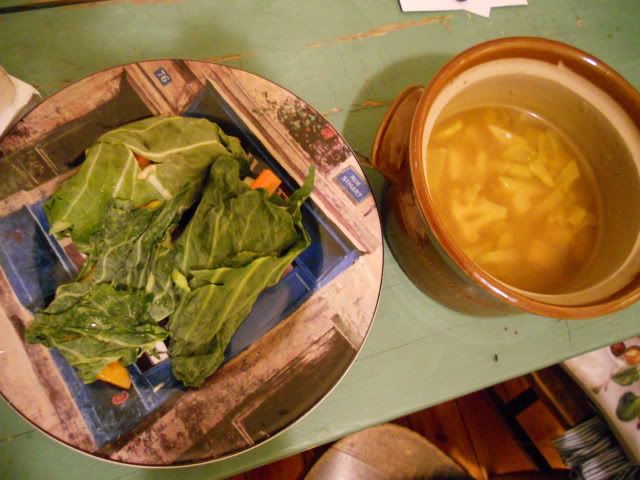 These blurry wraps included
garlic hummus, sliced carrot, cucumber, and roasted red pepper
. I love these things.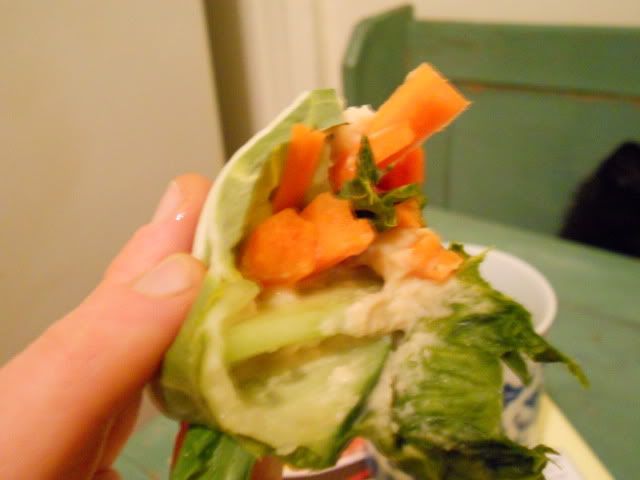 Also, 4 Things: From
Michelle
, but a la
Shen
because I can't think to answer my own.
4 TV shows:
Celebrity Rehab
Real Housewives
Cougartown
Kitchen Nightmares
4 Things I am Passionate About:
Cheap wine
Lentil soup
Blessed Mama's desserts
My privacy
4 Words/Phrases I Use Too Much:
"No memes"
"Delicious"
"Hello I'm Shen"
"It's hard to come up with a blog title."

4 Things I've learned from the Past:
Blessed Mama can do no wrong
Gratuitous pet photos will increase comments by 100%
Dip cookies in wine
New restaurants are not always worth it

4 Things I'm Looking Forward to:
Lunch tomorrow
Dinner tomorrow
Finishing these desserts
Playing with the pets

4 Things I love about Winter:
Soups
Snuggles
Wine
The crisp clear mornings of VA