Scooping....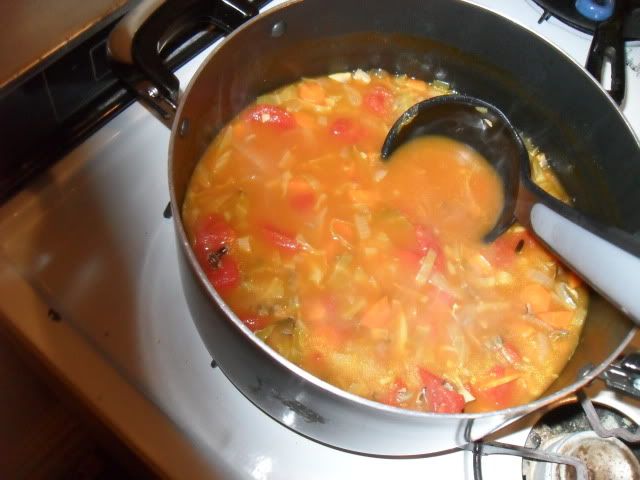 and....
Bingo.
More soup recipes, as if you ever need one. This was originally based off of a vegetarian chicken-noodle soup from Nava Atlas'
Vegetarian Soups for All Seasons.
It didn't stay that way for long.
3/4 c. wild rice
4 c. water
1 TBS olive oil + 2 TBS water
1 onion, sliced
3 cloves garlic, minced
1 1/2 c. cabbage, sliced
3 carrots, peeled and chopped
4 c. veg broth
28 oz. can diced tomatoes
1 c. water
1 1/2 mushrooms, chopped (I used cremini, whatever, no big)
1/2 can chickpeas
salt + pepper to taste
-Prepare wild rice: Boil water, add rice, let simmer about 45 minutes and drain. Set aside.
-In a separate stockpot, heat olive oil and water. Add onion, garlic, cabbage, and carrots and cook until soft.
-Add vegetable broth and diced tomatoes with liquid, as well as about 1 c. more water. When this is bubbling, add mushrooms and chickpeas. Let simmer about 20 minutes.
-Add salt and pepper to taste. (I didn't include or add any spices because the tomatoes had some spices in them, as well as the veg. broth and I didn't want to mess around too much with what was already there since the recipe was already from 3 separate soup recipes. Certainly add any spices you think would work: thyme, basil, bay leaf, etc.)
-Add cooked wild rice and heat through. Serve.
As with all soups, this tastes better the next day. You may want to add more liquid if it's going to be sitting around for more than a few days, as it absorbs and lets the flavors mmmmingle. This was actually my first time cooking with wild rice, which is apparently a swamp grass? So my foodie sister said. Anyway, it was good and I hope to be able to use it in a lot of ways because it was also sort of expensive.