Hey hey well of course I forgot to take pictures of the food for you guys...but G didn't!
The morning was spent cleaning and then I ran out at around 1 to get groceries for the (late) lunch with my sister. Since she's ONLY my sister and not someone too important (kidding, Liz), I was a little less stressed about hosting than usual - she's a good conversationalist and knows how to chill so I wasn't too worried about getting everything exactly on the table as soon as she arrived, or about scouring the toilet seat lest she make a judgment about my standards of living. I didn't even Windex the coffee table! (Those chores will be for tomorrow...)
Anyway, good thing she's chill because the she was at the apartment for about an hour as I was still cooking. The kitchen got a little overwhelming at times but it was okay. It's a little rough to have four things going at once and a cake that refuses to bake.
The meal was a small step up from your very simple soup and salad. I made a
roasted vegetable salad, wild rice-chickpea soup with tomatoes
, and a plain
vanilla cake
for dessert.
But first, G laid out a really nice
fruit/cracker plate
:
Tossing and plating the salad: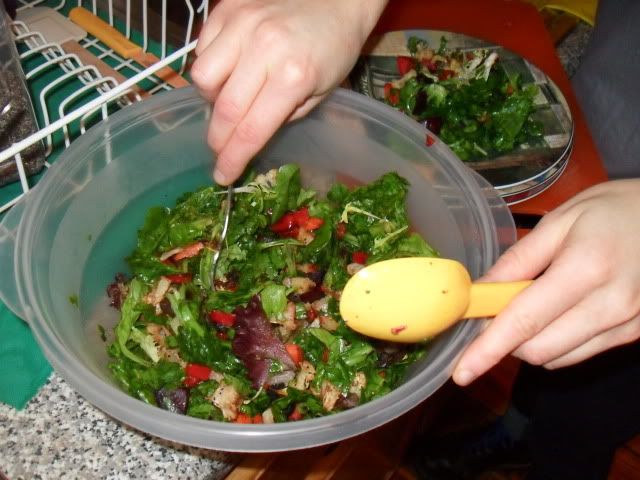 The salad consisted of
spinach, mixed greens, olives, roasted cauliflower, roasted carrots, roasted beets and roasted red pepper
.
The soup, which evolved from "un-chicken noodle soup" to "chickpea wild rice soup" to "soup with wild rice...and those roasted tomatoes!" Whatever this soup was, it was tasty. I'll try to post the recipe tomorrow.
All together now:
You see that blue Magic Hat in the back? That's the one and only beer I drank with the meal!
And the...cake. Weird bird, she. I'm glad we had that fruit plate. (Oh, and backup chocolate!)
So, yeah. I'm glad my sister brought a bottle of wine to bide time but I think she (and her friend who came along) enjoyed herself. Happy Back to School, Liz. Lesson is: lunch with a sibling is way more laid back and fun than dinner parties for the parents.