I made
Cinnamon-Date scones
from
Dynise's
upcoming cookbook even though the recipe was technically closed. That's how bad I wanted to make them. Can you tell I've been itching bake lately?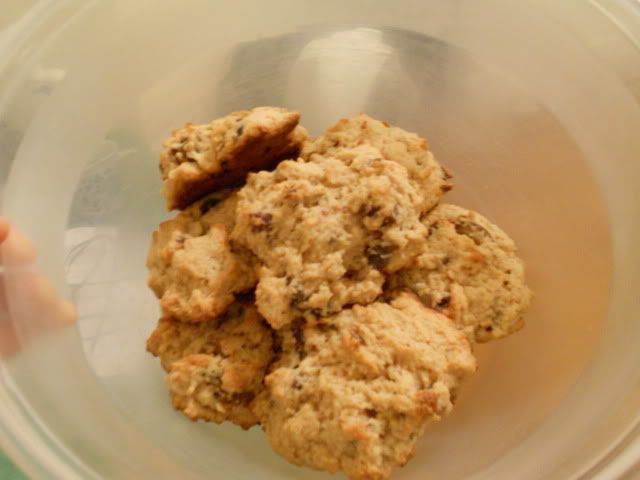 They were really delicious. I had one warm right out of the oven. I could have done with a little more cinnamon taste, but that's just me - I put cinnamon on everything I can. The batter also was a little less firm than I think scones are supposed to be, but I didn't want to add more flour so I just scooped them out like sweet biscuits rather than slicing the dough into wedges. I brought them to work the next day and people seemed to like them, scone-y or not.
I also made her
Mega Israeli salad
, which despite being a little out of season was a really nice, fresh change from my usual leafy salads. I was pretty anxious for my avocado to ripen but it was worth the wait - has anyone heard you can speed-soften an avocado by microwaving it? Egh! The idea of that kind of freaked me out so I just did the ole wrap it in paper trick.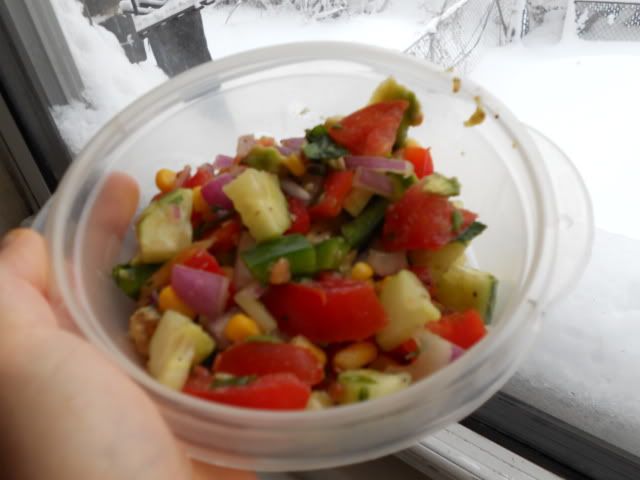 That isn't the best photo of it (I still don't exactly have the hang of focusing the new camera..) but I thought it was a funny contrast because you can see the fresh foot of snow in the background.
You can also see the major chunks of red onion in there...Perhaps not the best meal to bring as lunch to work. Oh well. It certainly brightened the white up.