I love oatmeal in the mornings. It's so versatile, though that's kind of moot since I eat it pretty much the same way every time.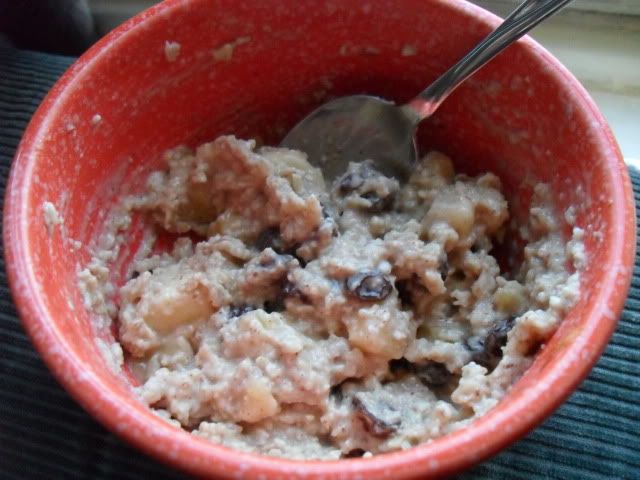 Oats, banana, almond butter, dried fruit: raisins or cranberries of late
. Maybe it'll get more exciting some other time.
Then for dinner, another test recipe for
Dynise
. This one was so delicious! There are quite a few steps to the recipe, but I think it is great and was totally worth it. This is
Harvest Crumble with figs, squash, and onion.
Also included is celeriac, which I have never used nor probably eaten, but it's very good. I also LOVE figs, so this was a real winner. The crumble on top also includes the ubiquitous oatmeal.
I served it with a fresh, beety side
salad
, which has been missing lately, what with all the fancy. Sorry about the crappy photo.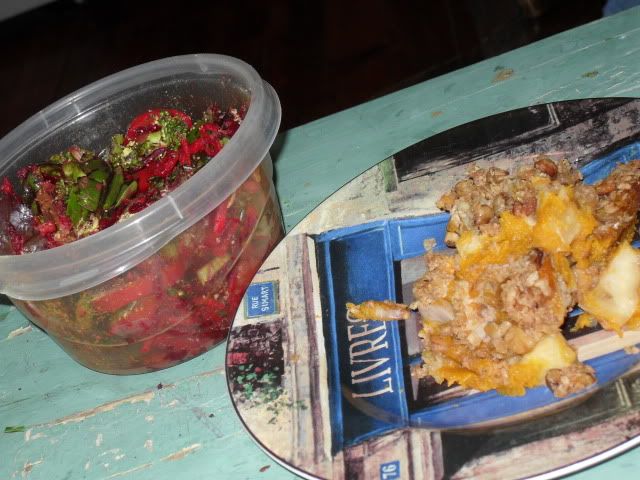 Oatmeal has even subconsciously worked its taste into some baked goods I made for work: they were FAIL scones but tasty "breakfast cakes." No oatmeal in those, just raisins, walnuts, spices, and the usual, but a friend kept insisting they tasted like oatmeal. Then he ate three of them, oatmeal or no.
The downside to all these great eats so far this month? I just calculated I've spent $207.66 already this month! And that's sobering in the face of
this news
I found on
Rick's
site. Sad. I'm hoping to start volunteering with some food organization soon, either with distributing food stamps or working at a food pantry or helping poorer neighborhoods learn about health. It's a long-term goal and something that I don't think about often but is a real, serious problem even in the U.S. Not to be a Debbie Downer. I'm grateful to be able to live and eat how I do; I have to remember to more often "eat to live" and not "live to eat."
Also, I'm sorry if I haven't been commenting much lately - I still and always have a bunch of things I want to get done but I'm reading! Keep up the good work - or take a break if you want so I won't have so much to catch up with!